Tweet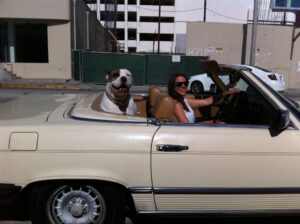 Welcome to Los Angeles! Now throw away all the rules you came with– this is the Wild West.  "But I drive in Manhattan!"  is the inevitable retort.  Congratulations Mr. Big Apple, we don't give a flying carpet. Here's what you need to know:
10. Cabs don't rule.  NY is great and all, but you guys have the luxury of being fearlessly carted around in yellow Crown Victorias. Here in LA, we fight our own battles. So buck up and cut off that green taxi, he won't mind.
9. The freeway's clear and there's a Carrera driving slow= trouble ahead.  If you are driving down the 10 at 4pm on Friday and it's wide open (and it's not Christmas or Passover), be very, very afraid. There's either a car chase ahead, the 405 is closed or there's a speed trap under the overpass that everyone else knows about except you.
8. No honkin', man.  Seriously, lay off.  I'm putting on my lipstick/calling my agent/eating an In-And-Out Burger, etc. I know the light turned to green.  Mellow the hell out.
7. Let the gardeners be. You're driving through Coldwater Canyon, trying to race home to your mistress in Sherman Oaks for a quicky during lunchtime, huh?  That's great, Mr. Hollywood.  Jose in the pickup in front of you has 3 ladders, 12 rakes and 5 garbage cans in his truck bed and barely enough horsepower to drag him up the hill.  But he's been mowing your lawn since 5am for a dollar an hour, so your hussy can just wait.
6. It's raining? You may as well call in sick.  The roads are slick and everyone forgets how to drive, even though half of them grew up driving in the snow. All the streets are a mess. Stay home.
5. Watch the lowriders, drive-bys are real. 'Nough said.
4. Try not to hate the Ford Focus with Nevada plates.  Because those ding dong tourists in rental cars spend roughly $14 billion in our lovely city. So ignore their rubber necking, their cameras out the window, even their ignorance of the 10 commandments, for without them, there would be no Disneyland.
3. Don't forget your sunglasses.  We don't just wear them to be cool– the sun is real, it's bright and even if it's raining when you leave your house, the sun will be out later.
2. Left on red is ok. I know, you think it's a typo.  Right on red's ok too.  No, I'm serious. After the light turns red, we graciously allow 2-3 cars to turn left. More on this later, just go with it for now.
And The Number One Most Important Rule In LA Driving Is…
…don't be a Douchebag! Cuz Mama's watching.