Tweet
I've been thinking a lot about VWs lately. How's that, you ask, dear reader? First of all, on my commute through Topanga Canyon every day, I see this nutjob (and I mean that lovingly, most of my favorite family members are nutjobs):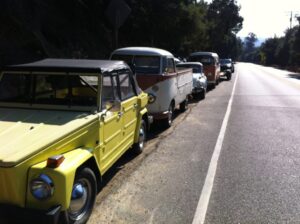 Yeah, this guy's got a Thing, a Pickup van, a Kombi bus and a Beetle, all lined up on the side of the road.  Fantastic.  It's almost as cool as the five Carreras in his driveway, but that's another post.
So then I see the new Beetle and the new Beetle R Concept Car at the LA Auto Show and I think– Great, good on you VW!  This Beetle is decidedly less homosexual than the first generation (no offense boys, most of my favorite family members are homosexual)–complete with 20″ wheels and the possibility of a whale tail like the Carrera.  But, does it have a soul?  Does it come close to this: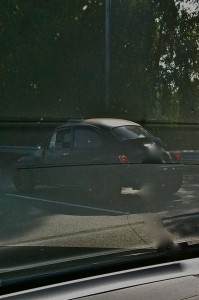 I know it's hard to see. But I shot this while driving down the 101 and had to snap a photo for you, dear reader, until I realized that it had a distinctly Cholo aspect– at which point, I slowed down in fear that he'd bust a cap in my ass.  It's undeniably hot though, isn't it?  Kinda of 18-year-old boy with a splash of ex-convict, all of which are sexy.  Even stuff like this:
is great. It may be parked in Calabasas (home of the Kardashian nonsense, which makes it even better) but it has a nice counterculture vibe with a splash of kiss-my-ass on top.  Then there's always the quintessential PCH siting: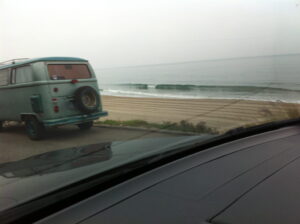 Would a Jetta parked on beach have the same aroma? You can kinda smell it, can't you? There's certainly some ganja, a splash of patchouli, perhaps some semen, but certainly falafel and hummus.  All the Jetta smells like is latte.
I think it's time for VW to get its groove back. Don't be scared, you can call Mama anytime.